HomeID - The Best Online Document Management, Tracking & Storage System
What is a Document Management System?
A document management system (DMS) is a technology-driven system that allows a user to store, track, and access files via the internet from any device. HomeID is a secure cloud-based document tracking system that allows you to store and retrieve files, photos, and important details regarding your home assets, even while on the go.
With HomeID, you can take a picture of the brand new couch you bought for your living room, along with another photo of your sales receipt and warranty information, and store it within the living room "Space" section of your Home ID portal for easy accessibility later.
Shopping for a nice coffee table to go with your new couch? View the dimensions of your couch and find out how much you spent via HomeID's online document management system so that you can make a smart purchasing decision while in the store.
But HomeID isn't only about storing documents, it's also about storing information. Want to record or view your maintenance schedule and any specified details while out in the yard? Need to recall how much more ply-wood you need for the new balcony you're building while at the home improvement store? Looking to seamlessly file insurance claims following a catastrophe to ensure that all of your assets are quickly recovered? Or simply want to contact your most reliable licensed plumber to perform urgent repairs? HomeID can help with all of these tasks, and more!
Of course, it is possible to record important information regarding your home on your phone or computer. However, HomeID allows you to store this important information in one place so that you can access it anytime and anywhere.
The HomeID document management system aims to enhance the quality of everyday life, while providing you with peace of mind. HomeID captures and conveniently organizes all information pertaining to the security and comfortability of your household.
Features of Document Management Systems
HomeID's document management system provide a convenient and well-organized platform that allows the user to store and access files from any internet capable device. The following are a series of benefits and features that a DMS has to offer:
Convenient file organization: Document management systems aim to make organizing both convenient and efficient. As opposed to the limiting file saving structure of your filing cabinet or home computer, DMS's expand your possibilities and allow you to navigate through files using a more visual and user-friendly format. HomeID has both an illustrative dashboard, as well as individualized menu tabs that separate each essential home management file into sections. Each section is labeled and pictures and descriptions are able to be inputted for convenient navigation.
Mobile optimization: DMS's are valuable, as they make it so you are not limited when uploading and accessing your files. HomeID allows you to track, organize, and upload important information regarding your home on any internet-capable device. Take pictures of the current condition of your home assets or the sales tag of the new couch you just purchased on your smartphone and upload the information instantly.
Paperless: DMS's make it easier to sort and search through paperwork due to their digital nature. Not only does this method support the "go green" trend, but it also ensures that your paperwork is in a safe and secure environment in case of a disaster such as a fire or flood. Because HomeID is a secure cloud-based application, it takes security a step further, as your files won't be present on your computer's hard drive that could be damaged or stolen. Your files will always be available online via the secure HomeID cloud.
Seamless Reporting: Document management systems encourage the user to continuously track and organize their important files. Because HomeID supports this very system, you are able to seamlessly file insurance claims in times of disasters due to the detailed tracking of all of your home assets. HomeID will also allow you to keep track of all of the items you have donated throughout the year in order to have it ready for tax season.
Secure: DMS's such as HomeID promise and ensure that all files and paperwork pertaining to your home are not able to be accessed by anyone other than yourself. HomeID has a company-wide commitment to your privacy. Files can never be erased or lost due to the cloud-based interface that HomeID utilizes.
Comparing Document Management Systems
While there are an abundance of document management systems available online, finding the one that best suits your needs is essential. Many of these systems withhold varying features, with each provider highlighting certain features that they feel are the most valuable to the user. But what truly is the best document management system available? HomeID.
Benefits of Using HomeID
HomeID is a fully-integrated home management platform that utilizes a secure cloud-based storage system to withhold all important information pertaining to your home. The program can be accessed from any internet-capable device, and aims to enrich the daily lives of homeowners.
Here at HomeID, we understand how important it is to feel safe, comfortable, and in control of your home. We do not only provide a user-friendly and practical document management system, but we also cater to the fundamental needs of a safe and secure household.
HomeID allows you to track the assets in your home making it easy to file insurance claims in the time of a catastrophe. The platform allows the user to record reminders and maintenance schedules on a calendar, track the progress of home projects, search for and store the contacts of licensed contractors, and access smart home connected apps all within one convenient and easy to use dashboard interface.
HomeID is constantly evolving and adding features that add value to the management of your home.
Competitor 1 – Homezada®
Homezada® aims to be a fully-functional home management platform. They utilize a secure cloud-based interface and have an app that can be used on any mobile device. 
Track your maintenance schedule, keep on top of a home remodeling project, and of course, keep track of a detailed home inventory list to maintain your most important home assets. For an extra charge, you can gain access to financial statistics that illustrate the value of your current assets, expenses, maintenance costs, etc.
Homezada also provides a feature called "Zada® Listings". This encourages homeowners to share the information and photos they have stored via a real-estate posting when attempting to sell their home. This provides value to a house hunter, as it provides transparency when it comes to things such as maintenance history on a home.
Homezada does not only seek to appeal to homeowners, but also to real estate agents, builders, service providers, and insurance companies. They highlight how providing Homezada as a free tool to their clients provides value and helps build a loyal customer base.
Competitor 2 – Homekeepr
Homekeepr is a document management platform that focuses on maintaining a positive relationship between service providers (such as realtors and insurers) and homeowners.
Homekeepr utilizes a secure cloud-based interface that can be accessed via their mobile app. Track your most valuable home assets by uploading pictures and descriptions. The site will search for a user manual that accompanies any home appliances that are stored. The portal will also allow homeowners to upload receipts so you can keep track of spending. One of their most highlighted features is their directory system.
Homekeepr gets the user in touch with contractors that are recommended by local experts such as realtors and insurers. Local experts are advised to post their recommendations for dependable local contractors so that their clients can utilize them for home maintenance and repairs.
This acts as an excellent tool to build client relationships. Homeowners gain peace of mind by utilizing contractors that are recommended by their trustworthy realtor, insurer, or other service provider.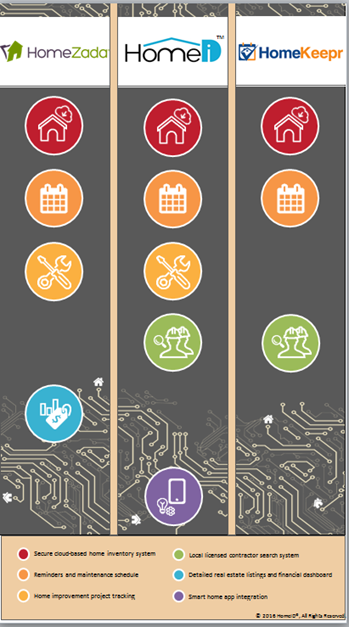 Customer Reviews - Why People Love Home ID
"My husband and I just moved into a new home. We were having the hardest time furnishing our house until we found HomeID. So far, I have been able to match upholstery, paint colors, and even refer to specific room dimensions for our new dining set while out shopping." – Amy Mogro, Fort Lauderdale, FL
"I use HomeID as a "digital rolodex" to store all of my important home repair contacts. I get all of my work done by licensed contractors that are recommended by Home ID. This saves me a ton of time searching on Google for someone I can trust." – Ed Rochelle, Arlington Texas
Get Organized with HomeID
There is nothing more important than feeling safe, comfortable, and in control of your own home.
With all of the "connected/smart home" technologies becoming available and competing models for how best to maintain or fix your house, we felt that a holistic approach to managing all of this complexity should be created that is entirely focused on your interests, the homeowner. 
Home ID was created to simplify and enrich the quality of everyday life by providing a fully-integrated home management system for homeowners. We wanted to provide a tool that is able to keep track of all items pertaining to the home using one powerful and convenient platform. Get organized with Home ID, today!